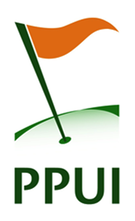 2018 International Trial Report
P.P.U.I. - 12/05/2018 - Automatic Four Spots Decided
2018 International Trial Latest
MUNSTER led the way today in securing the four automatic spots for the Irish Pitch & Putt team for next month's European Championships in Urduna in the Basque Country as they all broke 140 strokes at the 54 hole trial in Larkspur Park, Cashel in doing so. Reigning Senior Strokeplay Champion in the province Bryan Delaney of Fermoy led the field with a combined total of 26 under for his 54 holes which included second and third 18's of 10 under par each.
He will be joined by his club-mate John Cahill who was third in the standings but Bruff's Thomas Hanley was second overall with a score of 25 under par which included the joint lowest round of the day on 11 under par in his second 18, something he shared with club-mate James Ryan who also shot -11 in his last round. Cahill went one shot better each round in finishing on 24 under, starting off with seven under then going on to eight under and having nine under par for his final round.
The fourth automatic Irish representative will be Hillview's James Cleary meanwhile after he had two rounds of eight under par and a seven under sandwiched in between in finishing on 23 under par, 139. Kieran Earls and Ray Murphy tied for fifth in the final standings, both on 21 under par as Eamon Gibney, Ian Dillon and Sean Goggin were the best of the Leinster players on 20 under par each alongside Ryan.
The two wildcards to join the team next month in Urduna will be announced during the week. Click on the above link for all other scores from today.
More Articles
Upcoming Fixtures